Google Cloud Engineer Roles And Responsibilities
4.9 out of 5 based on 7112 votes
Last updated on 9th Jan 2023
9.5K Views

Google Cloud Engineers provide a valuable service to help organizations develop custom solutions. To know more about its roles and responsibilities read this post.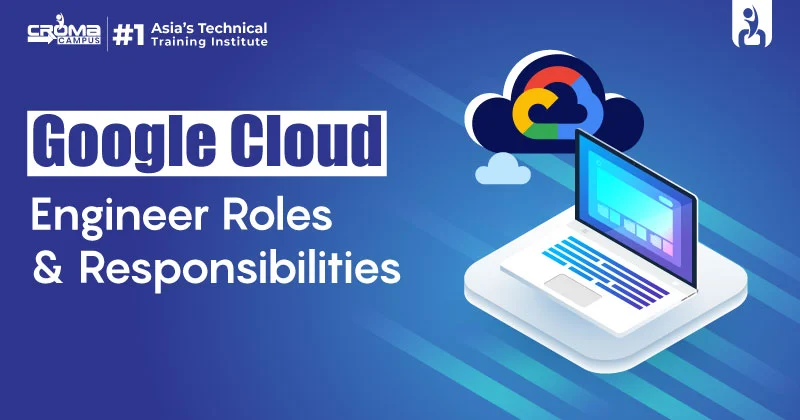 Google Cloud Engineer roles and responsibilities have evolved rapidly in recent years as cloud computing has become an increasingly important part of enterprise IT. The demand for skilled Google Cloud Engineers is growing every day, and this trend is expected to continue into the future. In this blog post, we'll explore the diverse roles and responsibilities of a Google Cloud Engineer, what qualifications you need to succeed in the role, and why it can be such a rewarding career path. By understanding the key skills needed by engineers working with the Google Cloud Platform, you can decide if it's the right fit for your background and experience.
Introduction
Google Cloud is a set of tools and services that allow businesses and individuals to build and run applications on Google's infrastructure. Google Cloud Platform (GCP), the company's flagship cloud offering, provides users with access to virtual machines, storage, databases, and other resources that they can use to build their applications. In addition to GCP, Google Cloud also offers a range of other products, including App Engine, BigQuery, and Cloud Storage. These products can be used together or separately to meet the needs of any application. When it comes to roles and responsibilities within Google Cloud, there are three main categories: engineers, product managers, and sales/business development. Well, you can acquire Google Cloud Online Training to know the role of a Google Cloud Engineer in detail.
To know some of the main roles of Google Cloud engineers, refer to the points mentioned below.
The Roles and Responsibilities of a Google Cloud Engineer
Engineers are responsible for building and maintaining the underlying infrastructure that powers all of Google's products and services. This includes everything from the data centers that house our servers to the software that runs on them. Product managers are responsible for defining the features and roadmap for each product. They work closely with engineers to ensure that the products they build meet the needs of our users. Sales/business development teams are responsible for driving the adoption of our products and services among businesses and developers.
No matter what role you play in Google Cloud, you will be working with some of the most talented people in the industry to build amazing things that have a real impact on people's lives.
As a Google Cloud Engineer, you will be responsible for designing, building, and maintaining the infrastructure that powers our products and services. You will work with a team of engineers to create scalable, reliable, and efficient systems that can handle billions of requests per day.
You will need to have a strong understanding of distributed systems, networking, and security. You will also need to be familiar with Google's cloud platform and products. As a Google Cloud Engineer, you will be expected to contribute to the development of new features and products.
In addition to your technical skills, you will also need to be able to communicate effectively with other teams in order to coordinate efforts and ensure that everyone is on the same page.
What Skills Does a Google Cloud Engineer Need?
To be a successful Google Cloud Engineer, one must possess a wide range of skills. One must be able to code in Java, Python, and Go. They must also be well-versed in Linux administration and networking. Furthermore, they should have experience with public cloud services and be familiar with the Google Cloud Platform.
How to Become a Google Cloud Engineer?
In order to become a Google Cloud Engineer, there are a few key steps that you must take. Firstly, you must strongly understand Google Cloud Platform (GCP) and its various products and services.
Secondly, you must be able to demonstrate your skills and knowledge in designing, deploying, and managing GCP solutions. Finally, you must be able to pass the Google Cloud Certified Professional Cloud Engineer exam.
If you meet all of the above criteria, then you can apply for a role as a Google Cloud Engineer. Once you have been hired, your responsibilities will include working with customers to design and deploy GCP solutions and providing technical support and troubleshooting when necessary. You will also be responsible for maintaining and improving the customer's GCP environment over time.
Conclusion
With the information listed above, it's pretty much clear that a legit Google Cloud Online Training in India plays an important role in ensuring organizations maximize the value of their data and applications. With the help of proper training, you will know every role and function in detail. With their vast knowledge of cloud technologies along with their expertise in software architecture design and security strategies, Google Cloud Engineers provide a valuable service to help organizations develop custom solutions that enable them to take full advantage of the power of the cloud.
Free Demo for Corporate & Online Trainings.
LEAVE A REPLY
Your email address will not be published. Required fields are marked *
Course Features

Reals Life Practical & Case Studies

Assignments

Lifetime Access

Expert Support

Global Certification

Job Portal Access