Full Stack Development
(46 Blogs)
Future Of Dot Net Full Stack Developer In India
4.9 out of 5 based on 5211 votes
Last updated on 30th Dec 2022
9.1K Views

In the modern tech world, Microsoft's .NET Framework has certainly made a name for itself, .NET is designed to build modern software applications.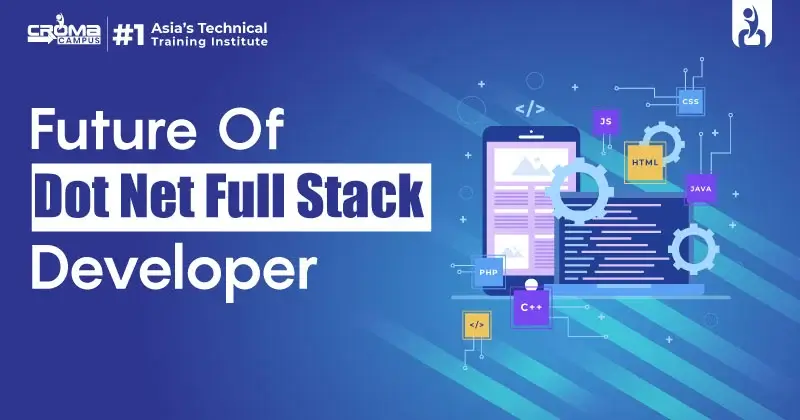 Introduction
.NET is an open-source software development platform by Microsoft. Initially, .NET Framework was introduced for creating applications on Windows only. However, with time Microsoft launched a new and updated version of .NET. Dot NET core enables adaptability with various platforms like Linux, macOS, etc. Also, .NET is compatible with languages like C#, F#, C++, and VB.NET. Now, a Dot Net developer is a technical professional who creates, designs, and implements software applications using .NET platform technologies. The platform is also compatible with different programming languages. If you look to build a career in this field, Dot Net Full Stack Developer Training in Noida can be a good start. However, with the modern versions of the .NET platform, dot net developers could build applications for multiple platforms like mobile, desktop, web, machine learning, IoT, gaming, etc. In today's world of tech advancements, a Dot Net Full Stack Developer has glimmering career opportunities.
Respective Roles and Responsibilities of a .NET Full Stack Developer
Build modern software applications using .NET infrastructure
Work on the existing codes and applications for enhancing better performance and productivity.
Maintain a large set of data in a repository and secure it for easy accessibility and analysis.
Develop test runs for your code to further ensure excellent output.
Look out for errors in the code and configure a workable solution for them.
Make sure the development of the application aligns with user requirements and demands.
Monitor the application for functionality, speed, and also efficiency
Work with the latest technologies and updates in the dot net frameworks.
Collaborate with the team, interested parties, and, clients to keep them further updated with your vision and growth.
Future Scope for Dot Net Full Stack Developers in India
You do not need any specific education for .Net developers, but professional experience and certification can be a great advantage. A .net developer will generally have a specialization in a specific area of development. Whereas, Dot Net Full Stack Developers, specializes in the overall area of development. A career in any development field basically requires a bachelor's degree for a minimum. A career in .Net offers wide job options in different industrial sectors.
There is a huge demand for .Net Full Stack developers in the job market. Let's have a look at their future scope;
According to the current average, a dot net full stack developer gets approx. 4-5 Lac yearly and the highest compensation can be 7-8 Lac yearly. But there is high demand for dot net experts across the globe; the compensation scale can grow an average 4 – 12 Lac per year.
Technical prospects of dot net are further improving wide. Dot Net is utilizing SQL servers for database processes. Besides, Microsoft brings many improvements in the dot net products and functionalities. Which further makes it a great future.
Also, the dot net community is enabling a dedicated security inference with the development, and resting execution process. Indeed, these advantages make it for a long duration that would maintain a never-ending improvement.
Having the initiation of the MVC pattern more and more website development firms and developers are joining the dot net framework. Additionally, there are lots of job opportunities for website developers and the prospect is going high shows that dot net development is a rising trend in the coming years.
Besides, dot net development provides splendid career opportunities in specific fields. The fascinated aspirants can choose the appropriate one from various kinds of web development fields. For some international certifications- MCTS (VB.Net) or MCTS (asp.Net) or MCPD, they can choose anyone who has a learning curiosity. These things can give better scope to the career in the future.
Conclusion
If you are in the phase of experimenting with platforms, and development types while creating applications, .NET is the place you are looking for. However, the .NET versatile and open-source cross-platform gives you the freedom to work on web development, mobile or desktop application, gaming development, cloud computing, and many other latest technologies. You can learn to work on this platform, by taking Dot Net Full Stack Development Online Training for quick and easy learning. Additionally, a .NET developer has a wide range of options to choose from and work on. Also, top-tier companies are looking for .net full-stack developers with a good average base pay per annum. So, if you are willing to grow, earn great money and learn every day while developing applications, a .NET developer is the right profile for you.
Free Demo for Corporate & Online Trainings.
LEAVE A REPLY
Your email address will not be published. Required fields are marked *
Course Features

Reals Life Practical & Case Studies

Assignments

Lifetime Access

Expert Support

Global Certification

Job Portal Access