Best Workday Certification Courses
4.9 out of 5 based on 6529 votes
Last updated on 10th Aug 2022
11.67K Views

Workday is a cloud-based human resource management software with various features like talent management, payroll, time tracking, etc.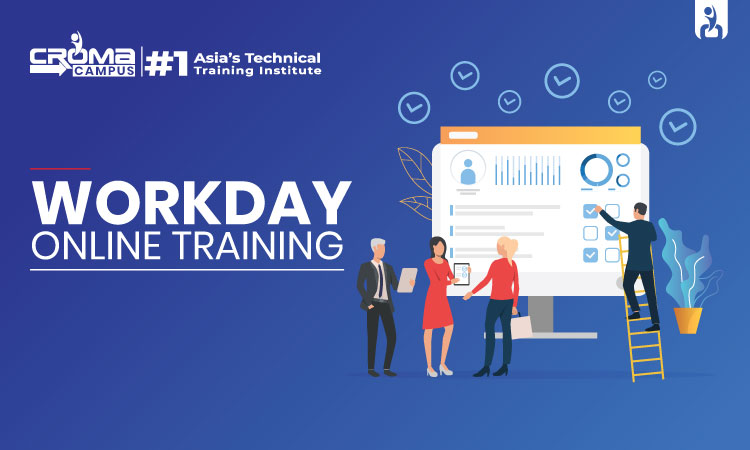 To begin with, Workday is a cloud-based human resource management software system that provides various features like talent management, payroll, time tracking, compensation, workforce planning, and recruiting. It ensures a digital revolution and organizations use it to manage their workforce performance, aims, and works.
Features of Workday:
Workday facilitates easy planning in areas like HCM, professional services automation, project management, finance, analytics, and professional services automation. It is useful for various business processes and multiple enterprises use it for the transformation of data. Mostly mid-size and large-size companies and organizations use this tool for planning and providing real-time insights for the company. To further know about it, one can visit Workday Online Training. Given below are some of the features of Workday.
Human Resource Management- HCM is useful in managing and organizing the workforce more effectively. Furthermore, it includes features like self-service functionality, compensation management, and absence management.
Recruiting- Workday provides a recruiting solution useful for companies in finding, sharing, engaging, and selecting the best internal and external candidates. It ensures transparency and manages the whole recruitment process in one system.
Talent Management- This suite comes with various tools useful in improving managing, developing, and rewarding employees. It consists of various functions such as onboarding, goal management, performance management, and succession planning. Etc.
Payroll- The HR department uses this feature for making payroll calculations and performing batch calculations. In addition, it allows your payroll department to integrate with third-party payroll providers.
Time Tracking- Workday allows employees to easily track their time. Furthermore, they can see their clock in and clock out using any device like a desktop, tablet, or mobile device.
Big Data Analytics- This software comes with various pre-built analytics templates useful for addressing key business issues. It also addresses topics like workforce planning, retention, compensation, and payroll-cost analysis.
Also, Read This: Workday Certification Cost In India

Benefits of Using Workday:
Implementing Workday in an organization helps in increasing productivity by providing better insights into the company's data. It ensures greater visibility and helps employees in better reporting. Furthermore, it improves employee engagement by providing efficient technology and reducing time wastage. Workday reduces costs by saving on technology costs, maintenance fees, and staff time. It helps the business users with every possible implementation necessary for business activities and smooth functions. Moreover, it helps in understanding the total people cost, including its labor for work within the unit. Above all, it improves operational efficiency and allows businesses to deliver their commitments more quickly and cost-effectively. Apart from these, given below are some of the benefits of using Workday.
Comprehensive coverage- Workday designs strategies for the benefit of employees in any location across the globe.
Efficiency- You can use employee status changes to automatically trigger the impact of the benefit.
Flexibility and control- It allows users to configure and update their plans with effective-date modifications.
Best Workday Certification Courses:
Workday is one of the best management software tools for Human Resources and Finance Management in an organization. Learning this software and getting certification in it boosts the career prospect of professionals in the field of Finance and Human Resources. Workday certification is beneficial for professionals like Generalists, IT Professionals, Managers and Employees, Project Managers, and System Administrators. Many institutes provide Workday Online Training in India and one can enroll in them to learn it. Given below are some of the best Workday certification courses you can do.
HCM Fundamentals.
Payroll Fundamentals.
Financial Fundamentals.
Benefits Fundamentals.
Recruiting Fundamentals.
Time Tracking Fundamentals.
Workday Integration System Fundamentals
Advanced Workday Studio
Leading Companies That Use Workday:
Workday brings best-in-class finance and HR applications into one powerful system. It helps in improving HR and Payroll compliance, reduces risk, and provides better data for decision making. Furthermore, it increases efficiencies across the institution. Due to this reason, many leading companies use this software tool for managing their workforce performance, aims, and work. It is useful in various sectors like Computer Software, Manufacturing, Healthcare, Financial Services, Education, and Insurance. Etc. More than 100 companies in 46 countries use this software tool as their cloud application for finance and HR. Given below are some of the popular companies that use Workday.
2U
3M
CarMax
Puma
Sanofi
Zendesk Inc
Conclusion
Workday is a cloud-based human resource management software. It provides features like talent management, payroll, time tracking, compensation, workforce planning, and recruiting. Implementing this software in business results in improving efficiency and flexibility. Many leading companies like puma, Zendesk, and Sanofi use it as their cloud application for finance and HR.
Free Demo for Corporate & Online Trainings.
LEAVE A REPLY
Your email address will not be published. Required fields are marked *
Course Features

Reals Life Practical & Case Studies

Assignments

Lifetime Access

Expert Support

Global Certification

Job Portal Access