Why Choose Croma Campus To Grow Your Career?
4.8 out of 5 based on 14235 votes
Last updated on 27th Feb 2023
9.65K Views

Adding more benefits to your learning journey, Croma Campus Placement solves all your other placement queries.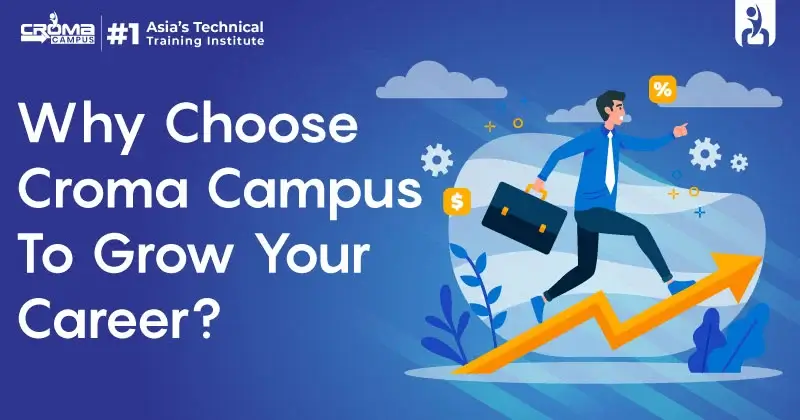 Introduction:
Are you thinking of learning a new language? Or even adding a new skill? Whatever your learning requirement, Croma Campus has all the solutions for you. Croma Campus, the best IT training Institute offers a variety of courses and learning programs. Choose the most in-demand language and start learning with us to grow in your career. In addition to training, we also have Croma Campus Placement opportunities for our learners. Though there are many learning institutes, then why should you prefer learning with Croma Campus? Follow the below paragraphs to get your answer.
Why Choose Croma Campus?
Easy Resolution to Your Queries: A doubt or a query is the most common hindrance in the journey of your learning. One query can stop you from moving ahead. Hence, our trainers help you with Real Time Resolution with Live Instructors. So, you need not worry about being struck. Just concentrate on learning.
Unlimited Access: You do not need to browse through the Internet to get your answers. We help you with unlimited Access to Online Learning Repository. Thus, one-stop solution to all your queries. In addition to other sources, Audio and Video learning lectures help you learn on your own time and at your own pace.
24/7 Learning Assistant: We bring you learning assistants to rescue you, whenever you are struck. Therefore, we are available for you 24/7 to solve your every doubt. Keep on learning without thinking about any obstacles.
Track Your Growth: It is easy to keep a track of your growth with us. Our constant assignments and mock interviews help you to be on the correct track.
Self-Assessment: Self-Assessment basically helps you to measure your preparation strategy. Everyone is learning a language for growth in their career. Thus, it becomes extremely important to assess yourself at every stage so that you don't deviate from the correct path.
Croma Campus Placement Opportunities:
Every learner's dream is to land a job after completing the training efficiently. Our different parameters of the Self-Assessment tests, Mock Interviews, Project Preparation, and Grooming Sessions, all help you together to conquer the challenges of placement. Adding more benefits to your learning journey, Croma Campus Student Placement solves all your other placement queries. We help you get to your dream job at your dream company. We have tie-ups with multiple reputed companies to look for our students. Thus, making placement our worry and you only need to concentrate on learning.
Conclusion:
Croma Campus is a reputed learning platform. We are not new to the world of training. We understand the student's needs. And also, with time upgrades ourselves to be in touch with the changing market demands. We continue to upgrade our courses or even add new courses according to the student's needs. Our Industry experienced educators are well-versed in industry requirements. Thus, helping you prepare for the most accepted industry standards. By offering so many learning benefits, you can start training with us without any worries. Start learning and growing in your career.
Free Demo for Corporate & Online Trainings.
LEAVE A REPLY
Your email address will not be published. Required fields are marked *
Course Features

Reals Life Practical & Case Studies

Assignments

Lifetime Access

Expert Support

Global Certification

Job Portal Access