Full Stack Development
(43 Blogs)
What Is The Salary Of React Full Stack Developer?
4.8 out of 5 based on 4472 votes
Last updated on 2nd Mar 2023
6.4K Views

React has become a top-rated development platform that's why companies are hiring Full Stack React developers for effective front-end development.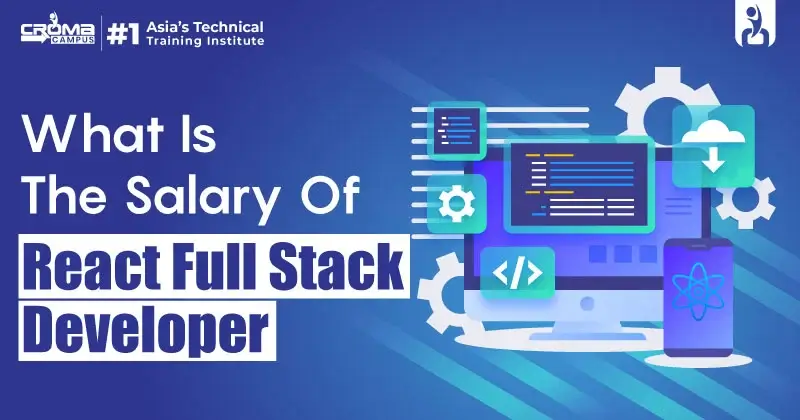 Introduction
The React platform is a popular JavaScript library that is used to build user interfaces. Full Stack React Development refers to using React platform as the front-end development framework. However, the back end of these developments uses frameworks like JS, Node or Python. React Full Stack is an excellent platform for developing scalable applications and static user interfaces incorporating dynamic inputs. It is a front-end application that enables developers to build frameworks that are easy to handle. A Full Stack React Developer uses the React framework to develop the front-end and back-end of web applications. React has become a top-rated development platform. Companies dealing with web development applications increasingly hire Full Stack React developers for effective front-end development. The salary of a Full Stack React Developer ranges between Rs. 1.6 Lakhs to Rs. 11.0 Lakhs in India.
Various institutes offer React Full Stack Online Training. Full Stack React training is a foundational level of training in React. Such training focuses on writing applications on the front-end and back-end, application scaling, testing codes, writing user interfaces, etc.
Let us look at the various benefits of React Full Stack and the responsibilities of React Full Stack Developer.
Benefits Of React Full Stack
The key benefits of React Full Stack Development are as follows:
Enables users to write modular code and cleaner
React codes are modular and easy to maintain and update.
It has core features like virtual DOM and server-side rendering that make it easy to create large-scale apps
The platform is free to everyone
React is exceptionally reliable, with a large community and solid corporate support
Responsibilities Of React Full Stack Developer
A React Full Stack Developer works on web development processes' front-end and back-end. React Full Stack Developers are among the highly paid developers with an average annual salary of Rs. 4 lakhs. The key responsibilities of a React Full Stack Developer include:
Developing various front-end features using React
Building reusable front-end libraries for future usage
Translating designs into high-quality codes
Optimizing components for maximum performance
Conclusion
To sum up, React Full Stack is a JavaScript web development framework. It enables developers to create dynamic front-end web applications with greater efficiency. The React framework is a JavaScript library. It allows users to write clean codes that rea easy to maintain. React comes with features like DOM that make large-scale app creation easier. Furthermore, the React platform is open to everyone with a large community, which makes it extremely popular amongst developers. Today React Full Stack developers are among the highly sought-after developers in the industry, with an average annual salary of Rs. 4 lakhs. The React Developers are responsible for working with the React framework to develop efficient web applications. Additionally, they also develop reusable front-end libraries, translate designs into codes, optimize components, and so on. Aspiring developers can join React Full Stack Developer Training in Delhi to enhance their skills with the React framework.
Free Demo for Corporate & Online Trainings.
LEAVE A REPLY
Your email address will not be published. Required fields are marked *
Course Features

Reals Life Practical & Case Studies

Assignments

Lifetime Access

Expert Support

Global Certification

Job Portal Access