What Is ServiceNow: Uses & Products Offered
5 out of 5 based on 892 votes
Last updated on 23rd Nov 2021
2.1K Views

Various institutions offer its classes and Croma Campus is one of the leading names in providing ServiceNow Training in Noida.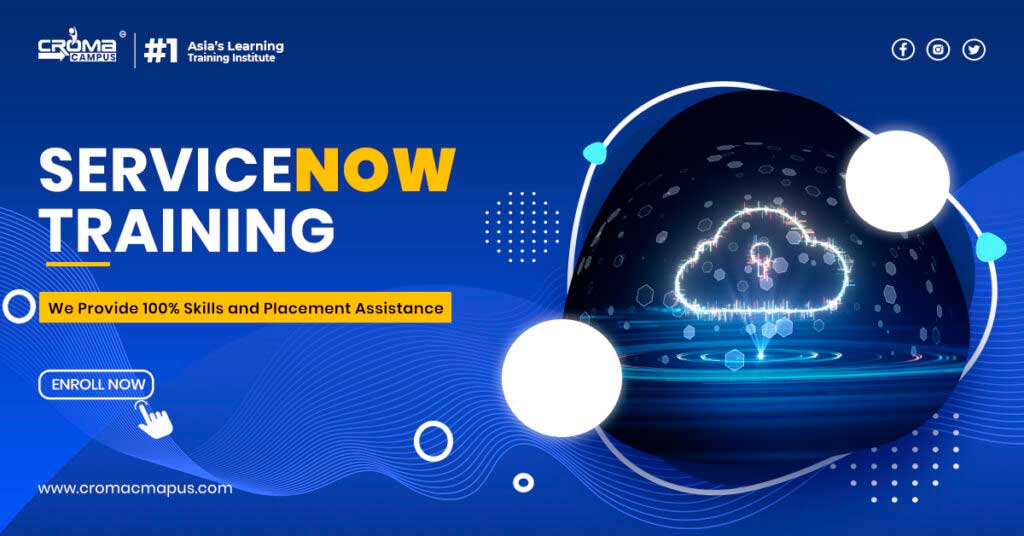 ServiceNow is a cloud-based software that provides a platform of IT service management (ITSM). It provides service as software for providing support towards technical management. This cloud-based company also has expertise in providing IT operations management (ITOM) and IT business management (ITBM). This helps in managing projects and interacting with the clients easily. This software as service (SAAS) also lets third-party apps interact with it easily.
Features Of ServiceNow
Due to its astonishing features, ServiceNow has been successful in gaining fame as an enterprise service management platform. It consolidates various functions related to business and also helps in planning for operations. It also provides the flexibility and dependability to achieve the goals successfully. ServiceNow Training in Delhi helps in cutting ITSM costs and provides a customer-friendly portal. While working with this software one doesn't need to worry about its configuration, deployment, updates, and maintenance.
Following Are Some Of The Uses Of ServiceNow:
It merges various IT systems into a single platform.
Provides transparency to stakeholders.
It also rationalizes an employee's workload.
This software assigns incoming tasks automatically.
It helps in tracking the operations smoothly.
Products Offered By ServiceNow:
ServiceNow issues a variety of products that can be used by numerous systems. It also enables interaction with (AI) processes. Used by several developers to extend standard configurations. ServiceNow offers a wide range of tools that are designed on the basis of a user's requirements and needs. Here are some of the products offered by this cloud company.
IT Service Automation Application: It helps to improve event loss time and find a disturbance in the system.
Business Management Applications: This product helps you to focus on the key areas and plan portfolios.
Custom Service Management: This tool helps to improve customer satisfaction and boost productivity.
Enterprise Security Response Engine: This tool is responsible for analyzing performance and improving efficiency.
Conclusion
Businesses are able to improve self-service capabilities for both employees and customers by using this software. This makes ServiceNow highly recommended and demanding. Various institutions offer its classes and Croma Campus is one of the leading names in providing ServiceNow Training in Noida.
Free Demo for Corporate & Online Trainings.
LEAVE A REPLY
Your email address will not be published. Required fields are marked *
Course Features

Reals Life Practical & Case Studies

Assignments

Lifetime Access

Expert Support

Global Certification

Job Portal Access