What Is ServiceNow Discovery?
4.8 out of 5 based on 3217 votes
Last updated on 13th Dec 2022
5.2K Views

ServiceNow Discovery also known as infrastructure and application discovery- offers a combined view of IT assets, including on-premise, serverless, and cloud services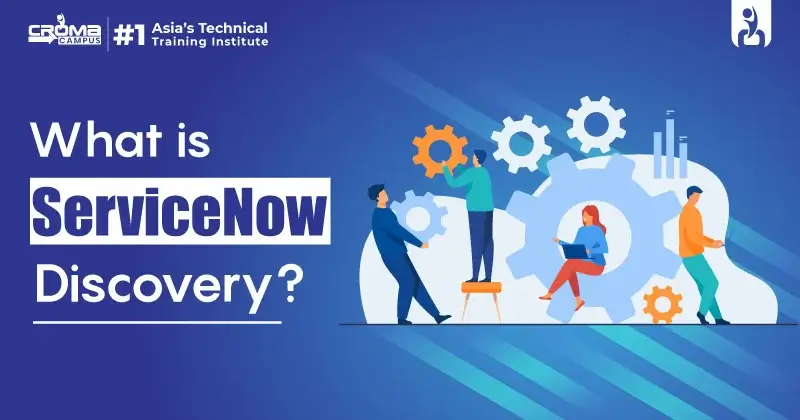 Introduction
The ServiceNow Configuration Management Database (CMDB) consists of information about configuration items. Then further captures and stores the data in the form of tables. The configuration items can be either hardware or software. Typically, IT teams depend on the CMDB to manage infrastructure changes and diagnose problems. However, in the absence of the right type of information, IT staff can't locate services that affect or predict the impact. Thus, leading to financial loss. Here, ServiceNow Discovery solves all these issues. ServiceNow Discovery also known as infrastructure and application discovery gives a consolidated view of IT assets including on-premise, serverless, and cloud services. And further, their relationship with other assets enables, IT Teams to have distinct visibility into the service and update it back to CMDB. Discovery locates devices and applications in your network and stores them in the CMDB. It allows IT with information on IT infrastructure and its changes.
Features of ServiceNow Discovery:
The IT Workflow Challenges
You can depend on ServiceNow Configuration Management Database (CMDB) to look after your IT infrastructure. Besides, you can learn to work with this application through ServiceNow Training in Noida. It will help you in keeping a centralized record of your applications and infrastructure. It also helps you to quickly diagnose and remediate outages, optimize infrastructure spending, minimize the risk of changes lower operational costs, and avoid software license compliance penalties. To receive these benefits, you need to keep your CMDB accurate and up to date. However, if you implement manual processes to populate your CMDB, it is not easy to keep up with constant infrastructure changes or avoid data entry errors. Dynamic virtualization and cloud environments make things more challenging. As the changes automate and happen in minutes.
The ServiceNow solution
ServiceNow Discovery provides your entire IT infrastructure, creating an accurate and up-to-date record in your ServiceNow CMDB. It looks after both physical and logical components. Besides also includes virtual machines, servers, storage, databases, applications, and more. It can also discover your custom applications with application fingerprinting. Also gives supervised machine learning algorithms to automatically identify new types of applications as they are deployed in your network.
Consistent and extensible data model
The ServiceNow CMDB is built on a single data model adding a standard taxonomy, predefined semantics, consistent format, data quality standards, and common processes. Moreover, every ServiceNow application makes use of this data model. To ensure that the ServiceNow CMDB offers value out of the box. And ServiceNow applications work seamlessly with each other.
Built to walk with dynamic multi-cloud environments
Discovery gives real-time visibility of public and private cloud environments by integrating with notification-driven cloud vendor configuration interfaces. Mainly, the AWS Config API offers the option of scheduled and on-demand discovery. Additionally, it also supports Microsoft Azure, Google GCP, and IBM Cloud. Besides, it includes both IaaS and PaaS infrastructure. And also, container and serverless technologies including Kubernetes, Docker, and AWS Lambda.
Ensure consistency and data integrity
Discovery is designed to enable you to avoid data consistency and accuracy issues. It seamlessly works with the ServiceNow Identification and Reconciliation Engine. Besides, it accurately maps discovered data to CIs and prevents duplicate CIs. Also, it assures that discovered data is consistently mapped to the right CIs by enforcing compliance with the CMDB data model. This makes ServiceNow apps use discovered data out of the box and increases reporting accuracy.
Ingest third-party data with Service Graph Connectors
Discovery also adds Service Graph Connectors, that is certified integrations that enable you to ingest data from third-party systems directly into your CMDB. These connectors are created and tested by third-party vendors under ServiceNow's rigorous engineering oversight and prescriptive guidance. This assures data timeliness, integrity, and consistency for third-party data in the same way that Discovery does for discovered data.
Conclusion
The last decade has seen tremendous growth in the need for business IT assets for businesses to remain productive and profitable. Owing to this growth in IT infrastructure, IT business teams are finding it difficult to manage, monitor, track, and analyze infrastructure and map it to business services. You can opt for ServiceNow Online Training in India to learn about its working. However, it's hard for IT teams to prioritize critical events and manage dynamic IT assets. To ensure a hassle-free approach to managing IT assets and promote better business decisions, ServiceNow offers the Discovery feature in IT Operations Management (ITOM).
Free Demo for Corporate & Online Trainings.
LEAVE A REPLY
Your email address will not be published. Required fields are marked *
Course Features

Reals Life Practical & Case Studies

Assignments

Lifetime Access

Expert Support

Global Certification

Job Portal Access