What Is ServiceNow Developer Instance?
4.9 out of 5 based on 7524 votes
Last updated on 24th Aug 2022
13.54K Views

The ServiceNow Developer Instances allow you to gather, study, and explore different pathways. To know more about it read this post.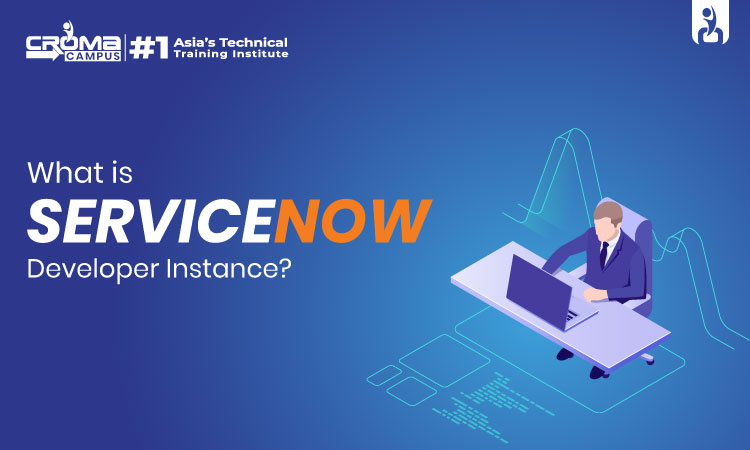 In the present scenario, ServiceNow has become one of the most popular and trusted ITSM platforms to automate various business processes. Moreover, it offers an application framework that provides various administrative benefits and helps in automating the overall business processes. It comprises different standardized applications that get compared by clients. Hence, ServiceNow has become the most reliable cloud administration that helps in integrating the cloud and company assets into a single account gadget. With ServiceNow, enterprises can use IT Service Management software that assists both IT enterprise and IT service management. It includes system security, human resource management, support directory management, and project portfolio management. However, for engineers, ServiceNow provides an essential tool known as ServiceNow Developer Instance. Here, we will learn about the process of obtaining a ServiceNow developer instance, required to use the ServiceNow platform.
ServiceNow Instance and Developer Instance:
ServiceNow uses a single-tenant framework that guarantees customers will receive their own copy of ServiceNow. Hence, these duplicates are known as ServiceNow instances, with which users can visit an event with the help of a browser by entering the instances' unique URL. In addition, each instance can run applications together allowing a single instance to provide the same data source for an ITSM, HR, and customized applications. Therefore, with this ServiceNow acts as a centralized platform for different business applications and improves each application with data exchange. Due to this reason, enterprises search for trained professionals to scale the ServiceNow framework within an organization. So, do you want to make a career in this field? join ServiceNow Training in Noida to develop all the skills and knowledge required to become a professional in this domain.
What do you mean by ServiceNow Instance?
ServiceNow instance comprises a collection of databases, virtualization software, applications, and libraries working together to provide a single client with the services. Moreover, the most important thing to keep in mind is that each client gets their customized application and database on a computer resource. As a result, the customer information gets secured and is highly encrypted. Moreover, the ServiceNow model has become extremely adaptable and used in cloud infrastructure.
Who is a ServiceNow Developer?
As a ServiceNow developer, you will require to develop the ServiceNow tool according to the customer specifications. In addition, you may need to develop bespoke applications and integrate them with ServiceNow infrastructure. Moreover, the major responsibility of a ServiceNow developer revolves around creating implementation strategies based on the client's specifications. However, to create and build applications and operate workflows, you will require a ServiceNow instance and an essential PDI.
PDI (Personal Development Instance):
The ServiceNow PDI has become an essential development environment that allows developers to explore the ServiceNow infrastructure and generate required assets. Moreover, developers can practice their abilities, build applications, and add plugins. With this, the ServiceNow PDI allows the platform to utilize the maximum capabilities. Therefore, developers can test their applications without any interference or difficulties.
What is ServiceNow Developer Instance?
ServiceNow developer instance acts as a playground for designers to experiment with ServiceNow and induce required resources. With this, you can experiment, research, and get to learn and understand ServiceNow. Moreover, developers can test ServiceNow applications without influencing clients and prevent instance deployment. Hence, developers can increase awareness and execute tests to create beneficial specifications and features.
Conclusion:
In addition, it helps you to stage and evaluate application concepts without jeopardizing a customer's needs. Hence, consider it a sandbox for developers and designers to scale their perspectives and provide a company with many benefits. So, you can enroll yourself for the best ServiceNow Training in Delhi and get to learn about the concepts and implications of the ServiceNow platform.
Free Demo for Corporate & Online Trainings.
LEAVE A REPLY
Your email address will not be published. Required fields are marked *
Course Features

Reals Life Practical & Case Studies

Assignments

Lifetime Access

Expert Support

Global Certification

Job Portal Access