Microsoft Dynamics
(15 Blogs)
What Is Microsoft Dynamics CRM?
4.8 out of 5 based on 3211 votes
Last updated on 23rd Dec 2022
4.1K Views

Microsoft Dynamics CRM enables you with a lot of benefits. To know more about the benefits read this blog post.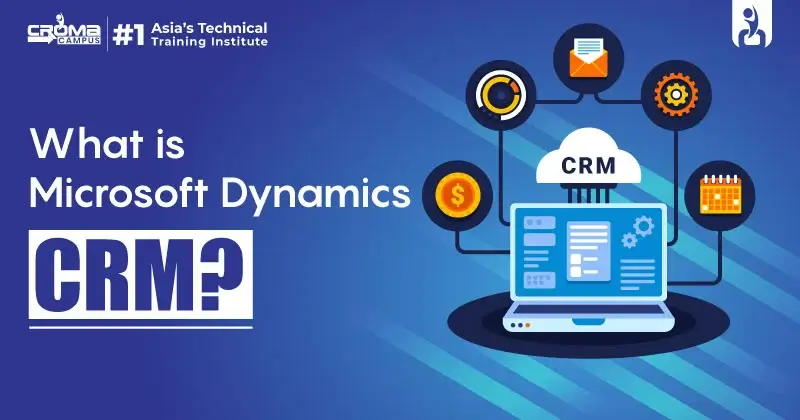 Introduction
Microsoft Dynamics CRM Software is now better known as Dynamics 365 CRM. It is basically a sophisticated Customer Relationship Management solution. Dynamics CRM manages all interactions and relationships with customers, stakeholders, prospects, and all other contacts for your business. Dynamics CRM stores all customer interactions in a shared high-performance SQL CRM database of your business. It further manages sales, marketing, customer service, and customer support, with seamless integration with Outlook and Microsoft Office 365. You can learn to work with this software, by taking a Microsoft Dynamics Training in Delhi for proper guidance. Moreover, Microsoft Dynamics CRM can easily integrate with other modules in the Dynamics 365 suite. So, when your business develops and grows you can upgrade your Dynamics 365 CRM software or add different modules from the Dynamics 365 range to enable a complete and flexible CRM and business management solution
What is the use of Microsoft Dynamics CRM?
Dynamics 365 CRM helps your business in developing better customer relationships. It also improves customer service levels and increases user efficiency levels, which further helps to drive sales revenues and profitability. CRM software centralizes all your customer data in one place so that everyone at your business can access all the information they require. This helps teams and individuals maximize customer communications and sales efforts. Dynamics CRM is useful in places like;
Marketing - In this digital era, marketers require the ability to plan, execute, and measure campaigns easily from start to finish. Microsoft Dynamics helps in engaging your customers to bring your marketing vision to life by enabling you to accelerate your marketing around one plan. Also, it reduces your time to market and improves brand consistency and message while building deep customer insights that help you with effective and flawless planning.
Sales - Buying decisions are usually made before you can even engage. To win, in this situation sales must adapt quickly. By using familiar solutions that are intuitive, and easy to adopt, your sales team can be more effective in the office or on the go. With Microsoft Dynamics CRM Online, you have exceptional access to social data for lead generation and relationship management. This further makes every customer conversation more relevant, valuable, and productive.
Customer Service – With Microsoft Dynamics CRM, you get a comprehensive capability for customer service and support. It further helps in reducing service response times and improving case resolutions so you can manage and exceed SLAs. You can even deliver responsive, relevant, effective service that too anywhere, any time, on any device. Also, connect with your customers on any channel, enable service on their terms, and empower your teams to move quickly to meet today's customer expectations.
Conclusion
Microsoft Dynamics CRM can definitely change how you do business. It cuts time and connects all your teams to empower their sales and customer service. If you want your business to succeed and enhance customer service. You need to start implementing ways to make your business more efficient. You can its techniques with Microsoft Dynamics Online Training in India for better implementation. Microsoft Dynamics CRM enables you with a lot of benefits. And enables you to make the decision now before your competition gets ahead of you.
Free Demo for Corporate & Online Trainings.
LEAVE A REPLY
Your email address will not be published. Required fields are marked *
Course Features

Reals Life Practical & Case Studies

Assignments

Lifetime Access

Expert Support

Global Certification

Job Portal Access