Robotic Process Automation (RPA)
(20 Blogs)
What Are The Vital Components Of Automation Anywhere?
4.8 out of 5 based on 6527 votes
Last updated on 3rd Sep 2022
13.8K Views

Automation Anywhere is a software tool and there are three types of bots in Automation Anywhere. For more details read this post carefully.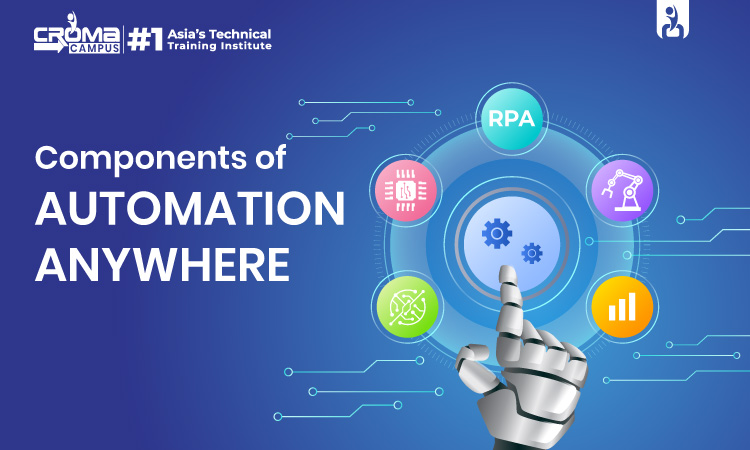 Automation Anywhere is a software tool that organizations use to implement RPA technology into their existing processes. It allows businesses to automate processes performed by humans.
Types of Bots in Automation Anywhere:
There are three types of bots in automation anywhere which are as follows:
Task Bots -These bots automate rule-based, repetitive tasks, in areas like document administration, HR, claims management, IT services Etc. They ensure immediate improvement in productivity, error reduction, and cost saving.
Meta Bots - They are the automation building blocks designed in such a way that you need to make minimal edits to the bot with application updates or changes. Furthermore, it ensures that changes automatically apply to any process utilizing that bot.
IQ BOT - This is an advanced tool that can learn on its own and conduct tasks accordingly. IQ Bots work on the concept of organizing unstructured data while increasing its skills and performance.
Components of Automation Anywhere:
Given below are the important components of Automation Anywhere:
Control Room - It is a web-based platform or server useful for controlling Automation Anywhere bots. Furthermore, it also manages user management, source control, dashboard, and license management.
Bot Creator - This component is useful for developers in creating bots. Different developers can create individual tasks/bots and these bots are capable of being merged and executed at once. To further know about it, one can visit Automation Anywhere Online Training in India.
Bot Runner - It is a machine useful for running bots and it allows you to run multiple bots running in parallel. Furthermore, these bots report back the execution logs/pass/fail status back to the control room.
BOT Insights - This provides you with statistics and displays graphs for analyzing the performance of every bot in the system. Moreover, the automation process allows you to even calculate the time you have saved.
Bot Farm - It comes integrated with Automation Anywhere Enterprise and is useful in creating multiple bots. Furthermore, a user can also give bot farms on a rental basis.
Bot Store - Bot Store is the first digital workforce marketplace that offers you tonnes of pre-built bots. Here you can find bots for almost every type of business automation.
Features of Automation Anywhere
Using Automation Anywhere requires no programming knowledge and you can simply record your actions, point, and click the action wizards. This tool eliminates the chances of human error and improves your transaction speed. Furthermore, it allows you to save time and costs and provides you with quick time to value. It is also useful in automating data transfers and importing or exporting data between files or applications.
Furthermore, it facilitates intelligent automation for business and IT tasks and uses SMART Automation Technology. It is capable of rapidly automating complex and complicated tasks along with creating automation tasks like recording keyboard strokes. Automation Anywhere is useful in distributing tasks to multiple computers and it provides you with scriptless automation. Its Auto-login feature is useful in running scheduled tasks at any time, even when the computer is locked. Many institutes provide Automation Anywhere Online Training and one can enroll in them to start a career in it. Apart from these, given below are some of the features of Automation Anywhere.
Task Editor - It is useful in generating tasks by dragging and dropping the items from the toolbox. Furthermore, you can alter, break down and even improve the recorded tasks.
Report Designer - It helps in generating and printing reports for displaying the execution history of various tasks. Furthermore, you can also create custom reports from it.
Trigger Manager - It is capable of executing workflows or tasks on the basis of external events. Examples of external events are process or service start/stop, a file or folder change, or a system performance change.
Workload Management - It prioritizes queue management for fulfilling the demands of enterprise-class SLA. Furthermore, it facilitates manual prioritization of high-value transactions inside an automated queue management model.
Conclusion
There are three types of bots in Automation Anywhere which are task bots, meta bots, and IQ bots. This software tool consists of various components like Control Room, Bot Creator, Bot Runner, BOT Insights, Bot Farm, and Bot Store. Furthermore, it provides various features like task editor, report designer, trigger manager, and workload manager. Automation Anywhere requires no programming language to use and it eliminates the chances of human error and improves your transaction speed.
Free Demo for Corporate & Online Trainings.
LEAVE A REPLY
Your email address will not be published. Required fields are marked *
Course Features

Reals Life Practical & Case Studies

Assignments

Lifetime Access

Expert Support

Global Certification

Job Portal Access