Top Workday Interview Questions And Answers For Freshers
4.9 out of 5 based on 5257 votes
Last updated on 26th Nov 2022
7.2K Views

In this post, we will explore some of the most common Workday interview questions. To know more about these questions read this blog post.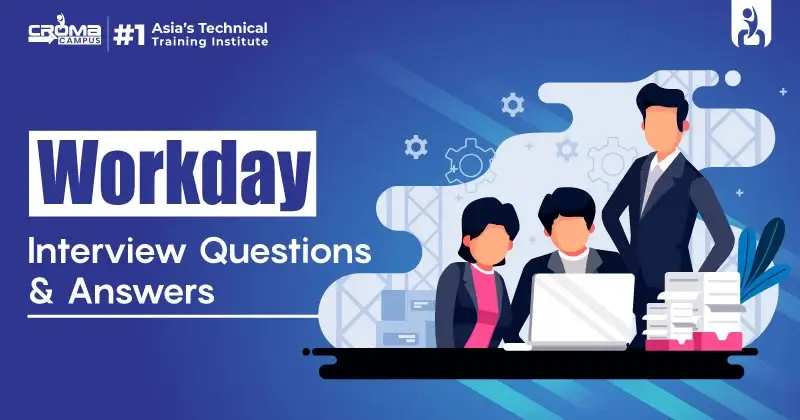 You've landed an interview for a Workday software position and you're already feeling the pressure. The good news is, if you're prepared, you can ace the interview and get the job. Therefore, the best way to prepare for an interview is to know the types of questions you may be asked and to have thoughtful answers prepared ahead of time.
In this post further, we will explore some of the most common Workday interview questions so that you can go into your interview with confidence, and full preparation.
So, let's begin with its basic introduction first.
What is Workday?
Workday is a legit cloud-based Human Capital Management (HCM) and financial management software suite. It offers a complete set of tools for managing your workforce, from recruitment and onboarding to time tracking and payroll. By acquiring Workday Online Training, you will get an opportunity to know its exceptional services like- powerful analytics and reporting capabilities. Further, you can make effective data-driven decisions about your business.
What are the highlighting features of Workday?
Workday software is a cloud-based enterprise resource planning (ERP) solution that offers a suite of applications to help organizations manage their finances, human resources, and supply chain. Workday was founded in 2005, and the company went public in 2012. Workday has a user base of over 2,700 customers worldwide.
Workday software includes the following features:
Financial Management: Workday provides a comprehensive financial management system that helps organizations manage their finances more effectively. The system includes modules for accounting, general ledger, accounts receivable, accounts payable, cash management, and asset management.
Human Resources Management: Workday's human resources management system assists organizations handle their workforce more effectively. The system comprises modules for employee onboarding, benefits administration, time and attendance tracking, performance management, and talent management.
Supply Chain Management: Workday's supply chain management system helps organizations manage their supply chains more effectively. Therefore, its system includes modules for inventory management, order management, supplier relationship management, and transportation management.
How can Workday software be utilized in an organization?
Workday Software can be used in an organization in several ways. It can help manage employee data, track employee time and attendance, and handle payroll and benefits. Additionally, Workday can help with talent management and succession planning.
What are the benefits of utilizing Workday software?
When it comes to enterprise resource planning (ERP) software, Workday is a name that's often mentioned. As one of the leading ERP providers, Workday offers a comprehensive solution for managing finances, human resources, and operations.
But what are the benefits of using Workday software? Here are some key benefits:
1. Streamlined financial management
Workday's software provides a streamlined way to manage your finances. With real-time visibility into your financial data, you can make better-informed decisions about where to allocate your resources. You can also automate key financial processes, such as invoicing and expense reports, to save time and improve efficiency.
2. Improved HR management
With Workday's software, you can manage your human resources more effectively. The software provides powerful tools for tracking employee data, managing payroll and benefits, and recruiting new talent. You can also use Workday's software to develop and manage employee training programs.
3. Greater operational visibility and control
Workday's software gives you greater visibility into your company's operations. With real-time data on projects, inventory levels, and customer orders, you can make better-informed decisions about how to run your business. You can also use Workday's software to automate key operational processes, such as order fulfillment and customer service requests.
What are some of the common challenges faced when using Workday software?
There are a few challenges that can be faced when using Workday software. One challenge is understanding how to use all of the features within the software. Another challenge could be trying to troubleshoot any issues that may come up during use. Overall, Workday software is a great tool that can help with productivity in the workplace.
How to overcome those challenges?
If you're a fresher, you're likely to face some challenges regarding your workday software interview. However, there are some things you can do to overcome those challenges.
Firstly, make sure you brush up on your workday software knowledge before the interview. There's no substitute for preparation, so take the time to read up on the basics of workday software.
Secondly, try to relax and be yourself during the interview. The interviewer is basically looking to get to know you as a person, so don't get scared to let your personality shine through.
Finally, don't be hesitant to ask questions if you're not sure about something. The interviewer will therefore praise your curiosity and it will show that you're genuinely keen to know more in-depth information concerning workday software.
Let's now proceed ahead and know how to learn Workday in the easiest manner.
How to learn Workday?
In the present scenario, you will find numerous ways to imbibe information concerning this specific suite. But the best way would be to approach an educational foundation. A proper educational institution will help you know this suite right from the scratch, with various examples, and enough study material. So, enrolling yourself in the Workday Training in Gurgaon from an educational institution will hugely help you to examine its functionalities and details in a much better way.
Conclusion
We hope that you found these workday software interview questions and answers quite helpful. If you have any other questions or want more information, then feel free to approach a good educational institution to expand your knowledge concerning this course.
Free Demo for Corporate & Online Trainings.
LEAVE A REPLY
Your email address will not be published. Required fields are marked *
Course Features

Reals Life Practical & Case Studies

Assignments

Lifetime Access

Expert Support

Global Certification

Job Portal Access