DevOps Engineering
(23 Blogs)
Top 5 Popular DevOps Certifications In 2023
4.9 out of 5 based on 4251 votes
Last updated on 26th Dec 2022
9.2K Views

Some Popular DevOps certifications will help you to get a competitive edge over others trying for the same positions. For more details read this post.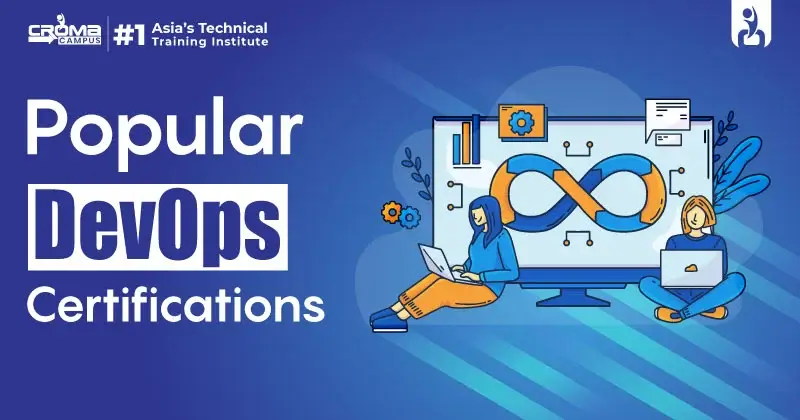 Introduction
DevOps increase the ability to provide the product and improve reliability while reducing inefficiencies. As well as satisfying their customer by offering the best services. Now, a DevOps certification is a designation that demonstrates specific expertise in skills and subject matter that are required to be a successful DevOps professional. You can basically earn these various certifications through an Assessment or exam or an educational course. To acquire this certification, you can also opt for DevOps Online Training in Kuwait for better preparation. You must know this; DevOps is going to stay here for a long. That follows the need to obtain a DevOps certification. Whether you are looking to enhance your current skill set, advance positions, or move in a different direction entirely. Obtaining a DevOps certification comes with major advantages for both the company and the employee.
Some Popular DevOps Certifications in 2023:
1. Docker Certified Associate:
The Docker Certified Associate certification sharpens your skills as an experienced Docker practitioner, for real-world Docker skills across the container industry. After the completion of your Docker Associate Certification, you would be empowered to grasp Docker and its role in the DevOps lifecycle; create images, swarms, containers, volumes, and networks; explain Docker security client bundles and many more. Software Developers, Technical Leads, Software Engineers System Administrators- even freshers can easily apply for Docker Certified Associate certification.
2. Certified Kubernetes Administrator:
Kubernetes is an open-source container-orchestration system for basically automating computer application scaling, deployment, and management. It was originally designed by Google and now the Cloud Native Computing Foundation maintains it. Kubernetes is the most popular container orchestration tool available today in the market. Certified Kubernetes Administrator certification takes you through all the domains of application lifecycle management, installation, configuration, and validation, with projects to help you get DevOps-ready.
3. Microsoft Certified Azure DevOps Engineer Expert:
The Azure Certified DevOps Engineer course basically focuses on hands-on experience with DevOps technologies and tools. Microsoft Certified Azure DevOps professionals are responsible for adding people, processes, and technologies together. Certainly, to deliver valuable products and services that meet end-user needs and business objectives. As a role-based certification, it demonstrates that you have sufficient knowledge and skills to work in that capacity.
4. Google Certified Professional Cloud DevOps Engineer:
A Professional Cloud DevOps Engineer is responsible for efficient development operations that can easily balance service reliability and delivery speed. They are efficient in using the Google Cloud Platform. Mainly to build software delivery pipelines, deploy and monitor services, and learn from incidents.
5. AWS Certified DevOps Engineer:
The AWS Certified DevOps Engineer certification mainly focuses on individuals who perform a DevOps engineer role. Owing two or more years of experience in provisioning, operating, and managing AWS environments. Getting an AWS DevOps Engineer certification assures your ability to implement and manage continuous delivery systems and methodologies on AWS. After you have experience in developing code in at least one high-level programming language, administering operating systems, and an in-depth understanding of modern development and operations, this certification becomes a cakewalk for you.
Conclusion
DevOps is among the top skills required by technical professionals. Today organizations are accelerating their migration to the cloud and increasing their reliance on cloud-based applications. DevOps professionals are integral in optimizing delivery, minimizing application errors, and building value for the organization. DevOps certifications and courses from leading institutions show an individual's comfort with the DevOps culture. However, if you look for more descriptive learning, DevOps Online Training in Dubai is a great medium to acquire this learning. Moreover, one must opt for a course depending on their current skill level and future career aspirations. Also, by obtaining one of these valuable DevOps certifications, engineers ensure they remain competitive in their field. And also, remain ahead of the curve for both business and technology.
Free Demo for Corporate & Online Trainings.
LEAVE A REPLY
Your email address will not be published. Required fields are marked *
Course Features

Reals Life Practical & Case Studies

Assignments

Lifetime Access

Expert Support

Global Certification

Job Portal Access