Software Testing
(52 Blogs)
Step By Step Guide To Learn Security Testing
4.9 out of 5 based on 1523 votes
Last updated on 1st Mar 2023
8.3K Views

You can enroll for the specialized Security Testing Online Training in India for a more advanced approach and to stand apart from your peers.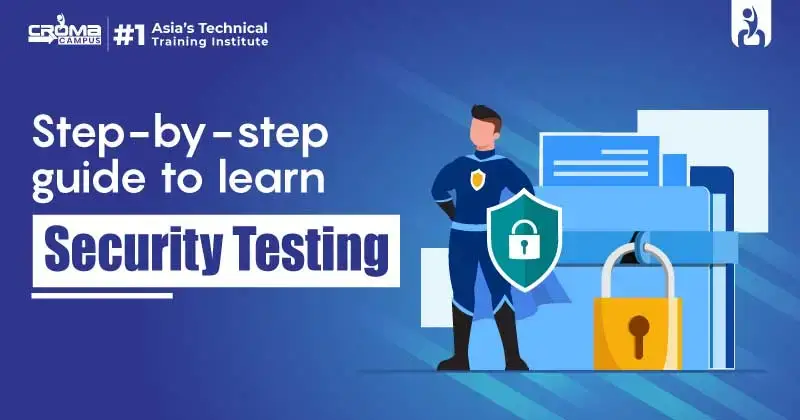 Introduction
Cybersecurity breaches are becoming more common for firms all around the globe. With such emerging threats, almost 68% of corporates believe their cybersecurity risks are increasing.
As a result, you cannot overlook the importance of security testing.
Although some businesses depend only on automated security testing tools and methods to assure security compliance, others use automated and manual both to ensure their software is tested and safe. There are several methods to check the security posture of your application. Before we go into the depth of learning this technology, we will understand its meaning first. Alternatively, you can enroll for the specialized Security Testing Online Training in India for a more advanced approach and to stand apart from your peers.
Security Testing: Meaning
Security testing is a type of software testing that identifies vulnerabilities, hazards, and dangers in a software program. It protects it against hostile intruder assaults. The goal of Security Tests is to detect any potential flaws and vulnerabilities in the software system that might result in a loss of information, income, or reputation of the organization's workers or outsiders.
Types of Software Testing
There are different types of software testing available in the market. However, the major ones are as follows:
Manual Testing
It is the process of evaluating the functionality of an application in accordance with the demands of the client without using automated technologies. Under this testing method, you do not need any particular expertise. Instead, you must have a solid understanding of the product to create the test document.
Automated Testing
It is the methodology to transform manual test cases into test scripts using automation technologies or any programming language. We can increase the pace of our test execution with the help of automated testing because no human work is required. We'll need to develop test scripts and run them.
Steps to Learn Security Testing
In order to learn security testing or become an efficient security tester, it is necessary to follow the below steps in the same order.
Get a Relevant Degree
An ambitious software tester should start by obtaining a Bachelor's or Master's degree in Computer Science, Computer Information Systems, Electrical Engineering, Business Management, or Information Technology subject. While a normal degree is not required, it will help you stretch your wings in the software testing profession.
Acquire Necessary Skills
A good software tester should have a sharp eye for detail and a fundamental understanding of coding and programming languages. He should also be proficient in related ideas, such as architectural algorithms, object-oriented programming, etc. However, technical capabilities such as Linux, SQL, and test management tools, and non-technical skills such as analytical, time management, and communication skills, will make one more valuable to employers.
Gain Industry Experience
Getting some industrial experience will be your next step in learning how to become a software tester since it will make your CV more visible to potential employers as a competitive candidate. However, your industrial experience is entirely dependent on your chosen field.
Get Certified
Even if you don't have a relevant degree, you can still change careers by taking the appropriate certification course. There are several software testing institutes available to assist you increase your software abilities and obtain your ideal career. However, acquiring one or more software testing certificates can allow you to pursue a job even if you do not have a degree in computer science.
Begin With an Entry-Level IT Position
Many software testers begin their careers in lower-level IT and cybersecurity positions before moving on to security testing. If you want to work in this domain, try starting as a network or systems administrator or information security analyst to get experience.
Start Looking for Work
When you're ready to start applying for security tester positions, make sure to go beyond the regular job boards. While LinkedIn and Indeed are great places to start, you should also look at specific cybersecurity job forums available online.
Conclusion
The increasing demand for technologies in the digital era has made security testing a vital part of any organization. Also, apps, software, and website testing have become regular activities for them. With such requirements, there is a rise in certified professionals who are competent with this technology. So, if you are also interested in the applications of this technology, the best way is to enroll in the training facilities from the Security Testing Training Institute in Delhi.
Free Demo for Corporate & Online Trainings.
LEAVE A REPLY
Your email address will not be published. Required fields are marked *
Course Features

Reals Life Practical & Case Studies

Assignments

Lifetime Access

Expert Support

Global Certification

Job Portal Access