Foreign Languages
(22 Blogs)
Six Tips To Ace The IELTS Exam
5 out of 5 based on 1632 votes
Last updated on 25th Jul 2022
5.2K Views

If you are looking to move to an English-speaking country for a job or to study abroad, you are undoubtedly getting ready to take the IELTS test.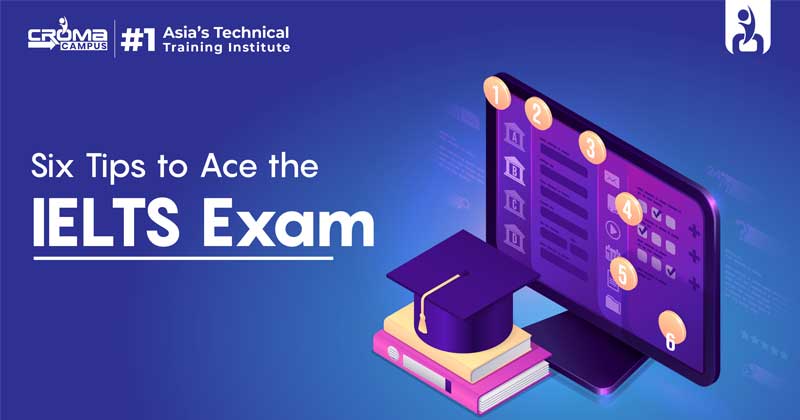 Introduction
This International English Language Testing System helps to evaluate your ability to communicate in English through four main formats; speaking, listening, reading, and writing. These formats test your ability to understand how you will use English in everyday scenarios such as university, employment, and social interactions. Almost everyone has taken this IELTS test, and a few of them find the preparation stressful. That's why we decided to write an article that will help the aspirants with the correct technique to approach such an exam. Before that, let us have a brief overview of the IELTS.
IELTS Exam: Overview
The International English Language Testing or IELTS measures the English proficiency of those attempting to work or study in an English-speaking nation. This test is identical to the TOEFL, another popular English comprehension exam, and evaluates the student's ability in four areas. Also, it comprises two versions; Academic and General. For both versions taking an IELTS exam is a mandatory requirement. The total test time is about 2 hours 45 minutes. While preparing for an exam, it is necessary to get familiar with American and British English as they take into account a crucial part of an exam. For such purpose, you should go for an IELTS Language Certification Training as they make you proficient in both languages and help you to clear the exam with a great score.
Tips to Clear Exam
Below are the tricks and tips that allow you to clear your IELTS exam in one go.
Look for as Many Practice Test Papers
In this digital era, there is no justification for not receiving any previous IELTS examinations. Deep amounts of IELTS exams and materials are readily available to anybody, from the Internet to the local library or community center. Thus, test takers may sign them out, make copies, and view what the IELTS examinations look like to get familiar with the test format. Also,
Use Model Answers
In order to strengthen your vocabulary, sentence, and essay structure, try copying model answers from the back of test books.
Make Practice your Priority
Make sure you understand all four of the exam. Also, try to replicate the test environment at home. It will help the candidate to manage their time on exam day. However, this trick is especially true for the writing test, where it's easy to become disoriented. For a speaking test, you can prepare in class or at home with the help of your friend.
Prepare Your Ears for Listening Questions
While writing and reading are crucial aspects of the IELTS exam, many candidates don't focus on the listening test. They are unprepared to hear a range of speakers with different accents, including British and Australian, talking in detail on specific issues. When studying, test takers should also take mock listening tests to train their ears to understand different speakers and to familiarise themselves with the type of listening questions they will be asked
Get Familiar with the Terminology
IELTS exam papers contain more advanced English terminology than a typical general or business English lesson. However, test-takers must be familiar with the concepts like synonyms, parallel expressions, and compare and contrast.
Get ready for Test Day
After the proper training in all the above tricks, students must book test dates and pay money in advance. So, to find out, What Is The Cost Of IELTS Exam In India? Browse to the IDP website, which serves as the primary organizer of IELTS in India.
Moreover, this time frame allows students to prepare mentally and physically. It entails a lot of studying, acquiring valid identification, getting adequate rest, knowing what to bring on test day, arriving early for entry and bag inspections, and so on. Do not undervalue IELTS testing centers. They are stringent venues with high security, so plan ahead of time to ensure that the day goes well.
Conclusion
Hopefully, you find this article informative. We have compiled the top tips and tricks that can help you clear the IELTS exam in the first go with a high band score. Following these tips strictly with proper planning and a good preparation strategy is necessary. Also, remember to practice daily to have a good grasp of the IELTS module.
Free Demo for Corporate & Online Trainings.
LEAVE A REPLY
Your email address will not be published. Required fields are marked *
Course Features

Reals Life Practical & Case Studies

Assignments

Lifetime Access

Expert Support

Global Certification

Job Portal Access