How To Prepare For The Workday Certification?
4.9 out of 5 based on 6541 votes
Last updated on 4th Jan 2023
9.4K Views

Workday is a user-friendly human capital management framework that helps businesses plan and manages resources to suit their certain requirements.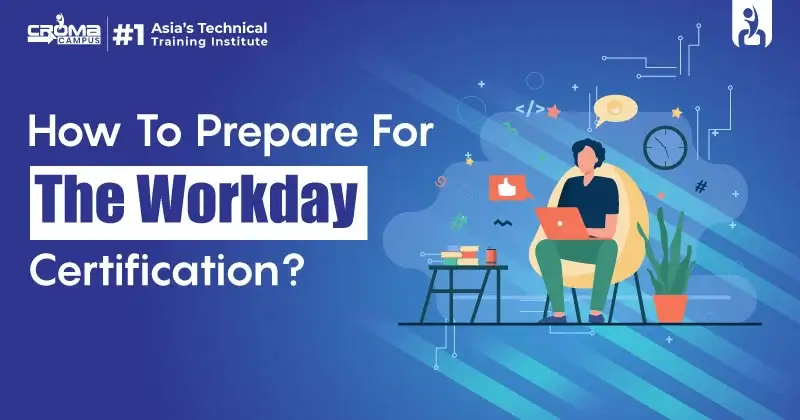 Introduction
Workday is a SaaS-based software vendor that offers HCM (Human Capital Management) and Financial Management software suites to expedite your business processes. It provides many business solutions like financial management, talent management, human capital management, enterprise planning, Payroll, and workforce management, analytics and reporting, Professional Service Automation, and product extensions. Workday enables you to gear up your career in any of these respective fields while providing training and certification programs. Workday certification can further help you enhance your market presence by having high-quality skill sets to add to your resume. You can prepare yourself for this certification, by taking a Workday Online Training. For taking workday certification you need to be part of the workday workforce or be an employee of any of their clients. Besides, Workday software suits are a user-friendly application that allows you to have a smooth working experience while using this platform.
What is Workday?
Workday provides you with a highly scalable, flexible, and reliable software suite for handling critical business requirements. A workday software suite basically simplifies the business process complexities. And further allows you to have a well-organized and optimized operating environment.
However, most organizations today suffer in order to gain the expected results due to a lack of operation management. Un-defined processes and the cluttered approach to managing processes make it difficult. Workday moreover simplifies the challenges by giving you access to the most promising enterprise suits of application. Workday manages big clientele due to its extraordinary services through various applications that help in keeping up the balance of work.
Critical operations like finance, employee time tracking, and benefits calculations based on employee efforts calculations become flexible and easy with the help of workday software suits. This is one of the reasons why Workday-certified professionals are in great demand. Owing to the high scale of usability of this product.
What is a Workday Certification?
The Workday Certification is one of the fastest-growing certifications in the industry. The Workday Certification is designed specially to teach skills of a workday platform which includes HCM and Finance modules. Workday certification is a kind of certification that helps you obtain a better position in the market. It is also based on the latest technology and gives you higher career prospects. You can get this certification after you take and pass an online exam.
Necessary Skills for a Workday consultant
A Workday HCM consultant needs a combination of different hard and soft skills to excel in their role, including:
A good technical knowledge of the Workday platform
Proficiency in Computer
Human resource and also finance knowledge
Both written and verbal communication skills
Building an excellent customer relationship management
Certain analytical skills
Lastly, correct time-management
How To Prepare For The workday certification?
Workday is one of the most well-known cloud-based software vendors that deal in the HCM and Finance domain over multiple platforms. If you look to make an impactful presence in the HR and finance market having a workday certification can gear up your career growth.
Applications on Workday are cloud-based and also easy to understand. Anyone having a technology background can easily grab the concepts very easily.
To gain a workday certification you need to be an employee of any of their partner companies. Once you get hired the company itself enrolls you for workday certification and also bears the cost of it. Workday is useful for top-notch multinational companies. If you are having a basic idea of navigating the workday knowledge the training and certification won't be difficult for you.
Workday professionals, handle multiple job roles like IT professionals, Managers, and employees, HRs, Project heads, Security managers, and System administrators.
Conclusion
Workday is useful by most of the world's top multinational companies. Also, Workday professionals are earning very high salaries figures as compared to other technologies. You can prepare for this certification with Workday Training Institute in Delhi for quick and easy learning. Not only will Workday gear up your career. But it will also help you have a diverse understanding of the domain while handling internal operations. It even gives the business a great level of adaptability. And also develops opportunities for those who inspire through this challenging business world. Keeping up with the competition in the job market is not easy but workday certification adds immense value to your overall skill sets. The certification stays valid for 1 year even if you leave your current organization and join somewhere else.
Free Demo for Corporate & Online Trainings.
LEAVE A REPLY
Your email address will not be published. Required fields are marked *
Course Features

Reals Life Practical & Case Studies

Assignments

Lifetime Access

Expert Support

Global Certification

Job Portal Access