DevOps Engineering
(23 Blogs)
How To Build A Career In DevOps?
5 out of 5 based on 1632 votes
Last updated on 7th Jul 2022
3.9K Views

Thus, in-depth knowledge of DevOps and proper practice of DevOps Training in Noida make the companies efficient.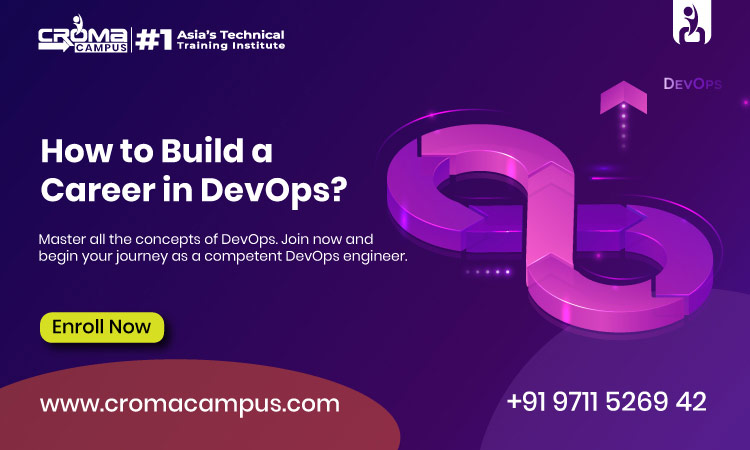 In layman's terms, DevOps is a unique combination of software, methods, and practices that leads to the increase in the company's capability of producing products at a high rate. It also renders companies to improve their services and products. It is an elegant system of making customers happy and significantly evolves the company than those companies who are using old practices and toolsets. The reduction in production time and the speed with which the companies provide services increase their competency. Essentially, faster delivery of services also safeguards the customer base and keeps the customers satisfied. It is one of the widely-sought practices in the industries and has created a demand among the companies. Thus, in-depth knowledge of DevOps and proper practice of DevOps Training in Noida make the companies efficient. Furthermore, expertise in this field guarantees a lucrative job with a top salary and enormous prospects.
Let us look at each aspect in detail
Benefits of DevOps
The DevOps model essentially propels the companies towards rapid growth and makes the employees happy with a dynamic environment. The core benefits described below would further elucidate the application range of DevOps-
High-Speed
In a competing business, speed determines the growth and future of a company. It makes the enterprises evolve to the ever-changing industries in a better way. It drives the results and makes the organization thrive in an environment where achieving results in a faster way is all that matters.
Reliability
Quality changes to the infrastructure and timely updates to the software enhance the reliability whilst maintaining speed. However, it is also important to ensure whether the changes are durable and the components are fully-functional. For this, DevOps developers use testing techniques like continuous integration and continuous delivery.
Enhanced Collaboration
DevOps model of working puts emphasis on accountability, transparency, and ownership. It automatically makes the departments much more effective and aids in achieving results in a rapid way. The model also allows distinct compartments in resource-sharing, combining the workflows, and sharing roles. It cuts down the deficiencies and reduces the production time. For example, programmers can take into account the environment in which the program has to operate at the time of coding itself.
Now, let us go ahead and analyze the skills one needs while working as a DevOps engineer
Skills Required as a DevOps Engineer
A DevOps engineer is a profitable career. However, the working domain is quite complex, and engineers need to develop certain skills to navigate their way through it.
Understanding Control Systems
An engineer in the DevOps field must be familiar with all the technicalities of Git and GitHub. While working on a project, the programmers would need to correlate and share resources. A special kind of control system called "Version Control Systems" allows this and even for the professionals who are working quite far away. It also renders the companies keep backups in a secure repository. Some more examples of VCS include Gitlab and Bitbucket.
Coding Knowledge
The significance of coding languages like Python, Perl, and Perl is paramount. There are several areas within the DevOps module where the need for programming knowledge arises. Areas like database integration alterations, troubleshooting of codes, deployment process, and automation. There are many other areas like CI/CD process where the information pertinent to the scripting language is crucial.
Deep-Understanding of Linux and OS Concepts
To become a comprehensive DevOps engineer, a deep-level understanding of OS concepts and especially of Linux is imperative. If you are a developer, then you must have a slight knowledge of Linux because a lot of IT companies prefer to use Linux as the base operating system. Furthermore, you can also get started with a basic level of understanding of the Linux system. Then, you can elevate your knowledge as you go deeper into the DevOps domain.
Now, let us deep-dive and look at some steps that will help you in becoming a successful DevOps engineer.
How to Build a Career in DevOps?
It might seem like a monumental task to build a career in DevOps. However, the reality is that developers can easily switch their careers and enter the DevOps field. All it will need is to just follow a few basic processes-
A Thorough Understanding of DevOps Methodology
DevOps is a growing field and the competition is increasing day by day. So, the level of your knowledge in this field would set you apart from your peers. A step before you start pursuing your career in the DevOps domain, it is imperative to know what it is and how it impacts the industries. It is basically an up-gradation model which leverages certain improvements in software and working methodology to make the companies more efficient.
Knowing Your Level
Having a good understanding of where you stand in the field that you are about to enter is a good start. This step revolves around evaluating the previous experiences you have which might be useful in the DevOps domain. Drawing insights from your past experiences comes in handy if you have to learn things quickly. For example, if you have worked as a systems engineer or you have worked on a Linux system, then these kinds of experiences prove to be useful.
Learn About the Tools in the Market
If you have appropriate knowledge about the field requirement, you would be better prepared for the roles and responsibilities that you would get. Taking note of the software that the domain requires and learning them can be helpful.
Get the Certifications
It is tough to get into the industry without any prior experience. Hence, to show that you have an adequate amount of knowledge, you must have proper certifications with you. Opting for courses that would not only solidify your basics but would also provide you with a reliable certificate to upgrade your profile.
Conclusion
The growth of DevOps in the global industries has been rampant in the preceding years. Nowadays, many enterprises adopt the practices of DevOps to improve their efficiency and deliver optimal performance to their customers. However, before you commence testing waters in the domain, it is highly important to make your fundamentals strong. Though, it is a robust practice, rigorously implementing the methodologies of DevOps Online Training would increase your efficiency manifolds. DevOps module is a scientific process of transcending your organizational methodology and should be followed by every company.
Free Demo for Corporate & Online Trainings.
LEAVE A REPLY
Your email address will not be published. Required fields are marked *
Course Features

Reals Life Practical & Case Studies

Assignments

Lifetime Access

Expert Support

Global Certification

Job Portal Access