How To Become A Workday Consultant?
4.9 out of 5 based on 13524 votes
Last updated on 12th Sep 2022
29.3K Views

If you are looking to get into the Workday profession for growth then joining the Workday Online Training course is a good idea.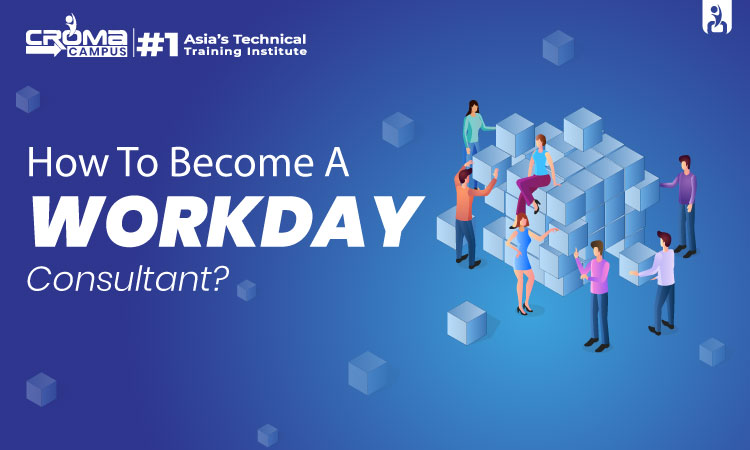 Introduction
A Workday Consultant is an important professional in the organization who has acquired Workday certification. He performs the role of assessing the HR requirements of clients. Furthermore, the professional is also responsible for creating a design, developing it further, and finally incorporating Human Capital Management (HCM) software to render solutions to those requirements. Additionally, the professionals also take care of the fact that the software is comprehensively tested and debugged to identify critical errors and then fix those errors. It is a prevalent field in worldwide industries and it has received unprecedented prominence in recent years. This is primarily due to the fact that Human Capital Management has extensively developed in recent years and advanced solutions and professional proficiency is a lot in demand. Hence, the enrollment rate in Workday Online Training is also surging rapidly because certification in the market scenario is quite valuable.
Now, let us move further and quickly discuss the details regarding the Workday Consultant profession.
Roles and Responsibilities of Workday Consultant
The consultant in this field performs various duties to help the organization in managing the human capital requirements. To know, read the subsequent points comprehensively:
The primary responsibility of the professional involves developing, testing, and verification of reports.
To create a comprehensive design and execute requirements in the financial solution.
Survey and understand the technical and business requirements of clients.
Strategize, lead, and implement Workday solutions.
Convey the requirements of the client as a point of contact regarding the software integrations.
Conduct data integrity audits and performs numerous tasks.
Now, let us check out the skills necessary to inculcate in this profession.
Prerequisite for a Workday Consultant
Now, since you have understood the roles and responsibilities in the previous section, it is quite essential to take a glance at the important prerequisites of this domain. Read about the skills from the subsequent points-
Firstly, it is quite essential to know about the entire features and functional range of the Workday platform.
Furthermore, since the professional has to interact extensively with the clients and the management, inculcating verbal and written communication is imperative.
Moreover, soft skills like time management and analytical skills also prove to be profitable in the profession.
Knowledge about customer relationship management, finance, and human resource also come in handy in this field.
Now, let us take our discussion forward and arrive at the main topic of the article. Proceed below to figure out the necessities you need to ensure to be successful in the profession.
The Process to Become a Workday Consultant
The most in-demand profession pertaining to HCM solutions is Workday Consultant, Now, if you are looking to get into this profession for growth, this article will help you determine a few aspects that you must work on for growth and success.
Bachelor's Degree: A graduation degree in the relevant field is imperative if you wish to enter the profession. A lot of companies require educational qualifications up to the graduation level to consider the candidate for the job. Therefore, regardless of your skills, a degree is a must. Hence, obtain Bachler's degree in human resources, finance, information technology, or any pertinent field.
Training: You must have knowledge about HCM software, functionalities, and solution to be able to implement them in the profession. Thus, it is quite significant to undergo training and imbibe knowledge about all the relevant tools available for Human Capital Management.
Experience: Now, as in any other field, industry experience is invaluable so much so that there is no substitute for it. If you work for a few years in this profession, you will begin to understand all the duties and applications of software to determine solutions for various problems. Therefore, aim for industry experience as it will help go deeper into the profession and help you in understanding things at a micro level.
Certification Course: Now, if you are a fresher, a certification course becomes even more important. This is because a certification elevates your knowledge from a beginner level. It also resonates with your profile as per the industry standards and makes it apt for job consideration. Hence, sign up for a certification course with a proven track record. Then subsequently use the certification to apply for jobs to kickstart your professional career in this field.
Conclusion
A Workday Consultant is an important role in a major enterprise. This is because the professional acts as a focal point for HCM and HR requirements of the clients. The professional plans, develops, and executes various solutions and conducts data integrity audits as well. It is an in-demand profession and the above article succinctly covers all the main points regarding the domain. Develop crucial skills and obtain a certification from Workday Training Institute in Noida to advance your marketability and get profitable job offers from top recruiters.
Free Demo for Corporate & Online Trainings.
LEAVE A REPLY
Your email address will not be published. Required fields are marked *
Course Features

Reals Life Practical & Case Studies

Assignments

Lifetime Access

Expert Support

Global Certification

Job Portal Access