Microsoft Dynamics
(15 Blogs)
How To Become A Microsoft Certified Dynamics Developer?
5 out of 5 based on 6532 votes
Last updated on 19th May 2022
3.9K Views

Microsoft Dynamics is an easy-to-use and deploy platform that can easily be deployed in the cloud or hybrid cloud environment.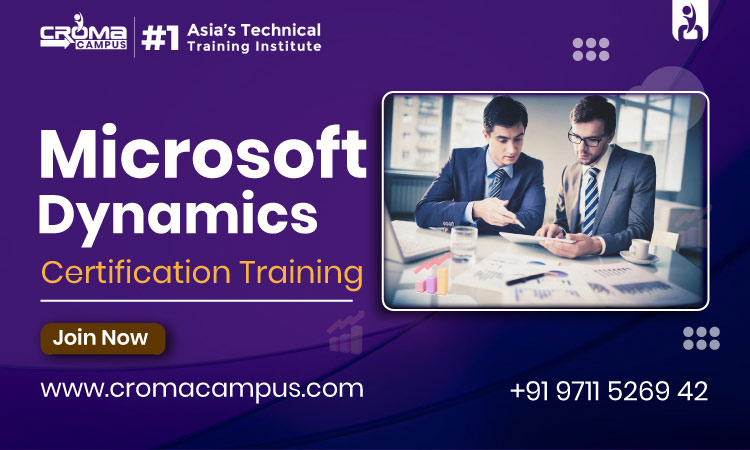 To start with, Microsoft Dynamics is a cloud-based tool that consists of features of CRM & ERP tools. In addition, it comes with various productivity applications and artificial intelligence tools useful for business processes.

Features of Microsoft Dynamics:
Given below are some of the significant features of Microsoft Dynamics.
Mobility
It is a highly mobile solution that allows you to access all their activities, leads, and contacts when on the road. In addition, it provides real-time customer interaction alerts along with a complete overview of sales channels. Moreover, it helps in making companies unstructured.
LinkedIn Sales Navigator
A user can directly access LinkedIn profiles from its CRM solution. In addition, it facilitates documenting your emails and other LinkedIn messages. Thus, allowing a user to obtain key information and better target recommendations of opportunities.
Email Integration
This software tool is capable of easily integrating with your e-mail management software. In addition, it provides a user with access to information and opportunities which are linked to the specific contact. Moreover, it provides you with multiple tools and increases your efficiency.
Customer Service Dashboard
This feature is useful for managers as it allows them to access the most urgent cases along with the status of requests made. In addition, it provides an overview of the customer's experience along with multiple opportunities for improvement.
Activity Log And Connections to CRM
The activity log is responsible for recording and holding all the connections and actions. Furthermore, it also facilitates easy integration with security systems such as Microsoft OMS and Splunk. Thus, helping in preventing intrusion or fraud of your CRM.
Smart Search Feature
It facilitates a smart search feature that allows users to find information across all records, contacts, templates, and stored opportunities. In addition, it helps in finding better and faster information and results in saving a considerable amount of time.
Benefits of Using Microsoft Dynamics
Microsoft Dynamics is an easy-to-use and deploy platform that can easily be deployed in the cloud or hybrid cloud environment. It is easy to manage and is ideal for companies with a BYOD policy. In addition, it is capable of fully integrating with Microsoft products and the full Office 365 suite. Thus, providing flexibility to companies to move to Outlook for communication, Power BI for data analytics, or SharePoint for documentation. Moreover, it reduces the sales cycle and allows teams to craft fast responses and deliver information. To further know about it, one can visit Microsoft Dynamics Online Training in India. Apart from these, given below are some of the benefits of using Microsoft Dynamics.
Customizable
It allows a user to automate tasks across sales, marketing, customer service, field service, and project service. In addition, it has customization tools that are useful in defining additional fields and new objects in the system.
Enhanced Customer Service Experience
It collects a lot of customer data by analyzing the websites they visit and how they interact with brands. This information is beneficial for customer service as it helps in handling customer interaction on a case-by-case basis.
Scalability
This is a highly scalable software tool that is capable of scaling up or down depending on the current team size, budget and workload. Moreover, it follows an easy-to-change monthly subscription method for charging.
Increased Productivity
It provides teams with any kind of data they need for business operations. Thus, allowing them to work more effectively and cutting downtime searching for information.
How To Become A Microsoft Certified Dynamics Developer?
Certification in Microsoft Dynamics allows you to stand out among other job candidates. In addition, it makes you eligible for better and higher payments and provides you with frequent promotions and raises. Moreover, it helps in gaining recognition and makes you an important asset to your company. Many institutes provide Microsoft Dynamics 365 Training in Delhi and one can enroll in them to start a career in it. Here are some of the skills useful for becoming a certified Microsoft Dynamics developer.
Should have working knowledge and experience utilizing X++.
Need to have experience using data visualization tools in Power BI.
Strong collaboration and communication skills are a must.
Should be capable of working in Agile or SCRUM environments.
Conclusion
MS Dynamics is a CRM & ERP-based software tool. It is highly mobile, scalable, and productive. In addition, it is easy to customize and helps in enhancing the customer service experience.
Free Demo for Corporate & Online Trainings.
LEAVE A REPLY
Your email address will not be published. Required fields are marked *
Course Features

Reals Life Practical & Case Studies

Assignments

Lifetime Access

Expert Support

Global Certification

Job Portal Access