How Do I Become A SharePoint Administrator?
4.8 out of 5 based on 3241 votes
Last updated on 9th Jan 2023
6.2K Views

It is the SharePoint administrator's responsibility to keep track of the SharePoint software for any type of issues and resolve any problems on SharePoint.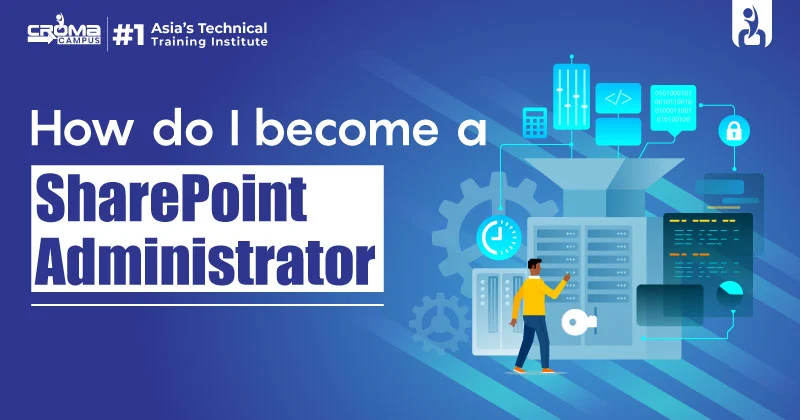 Introduction
SharePoint administrators are responsible for helping and managing the functions of an organization's SharePoint software. Also, it is your responsibility to keep track of the SharePoint software for any glitches and resolve any problems on SharePoint. You can even customize a SharePoint site for the company, manage and review the layout of the site, enable training for users, and analyze daily SharePoint users' activities. Looking at the extensive list of responsibilities, it is crucial to take SharePoint Online Training for better knowledge. As a SharePoint Administrator, you will need to keep a record of all SharePoint maintenance, updates, and activities. The following paragraphs will guide you on the journey of becoming a SharePoint Administrator.
How to Become a SharePoint Administrator (Step-by-Step Approach)
Step 1: Obtain a bachelor's degree in computer science or a related field
A bachelor's degree is basically the minimum education requirement for most employers hiring a SharePoint administrator. A computer science or information technology (IT) degree program gives the foundational knowledge and skills you need to work as a SharePoint administrator.
Step 2: Gain experience with SharePoint development and administration profile
After earning your bachelor's degree, you can start working as a SharePoint administrator. Entry-level positions for this role are generally available in both the public and private sectors. Many organizations hire students right out of school to work as SharePoint administrators because they already know how to use the specific software. Besides, working at entry-level, take benefit of opportunities to learn more about SharePoint administration.
Step 3: Earn a Microsoft Certified Solutions Expert (MCSE) certification
The MCSE certification is a valuable credential for SharePoint administrators to earn. It demonstrates your expertise in different Microsoft technologies and can help you move in your career or find employment. Moreover, the MCSE: SharePoint certification requires passing exams in server administration, infrastructure development and deployment, business intelligence development and implementation, communications and networking, and security.
Step 4: Develop strong communication skills
SharePoint administrators work in teams and often requires to interact with other departments within an organization. Communication skills are crucial for working effectively as a SharePoint administrator. You should be able to clearly explain technical concepts to non-technical people and further listen carefully to understand what users need from the system. You also require to communicate on regular basis with developers and other IT staff members to ensure that everyone is aware of current projects and tasks.
Step 5: Understand networking and security concepts
SharePoint is generally used in a networked environment, so it's crucial for administrators to understand networking concepts. Networking allows various computers and devices to share information and resources with each other. Security measures are also important because they protect the stored data on SharePoint from unauthorized access or changes.
Step 6: Stay up to date on changes in technology
Technology is rapidly changing, so it's important for a SharePoint administrator to stay up to date on the latest developments. For instance, Microsoft regularly releases new versions of SharePoint including new features or changes to existing ones. It is however important for administrators to learn about these updates and decide whether their organizations should adopt them.
Step 7: Join professional organizations such as the SharePoint Administrator Association
The SharePoint Administrator Association (SPAA) is a professional organization for individuals who basically work in the role of SharePoint administrator. Membership in this organization can help you stay up to date on industry trends and developments, and also connect you with other professionals in your field.
Conclusion
After analyzing every step, you must have known that you need to be an expert in SharePoint to become an administrator. However, there are different mediums by which you excel in training and certifications. You can opt for SharePoint Training in Delhi to boost your SharePoint administrator skills. As a SharePoint administrator, you will usually oversee every activity of the SharePoint software. Thus, you need to be an expert and proficient in using this software.
Free Demo for Corporate & Online Trainings.
LEAVE A REPLY
Your email address will not be published. Required fields are marked *
Course Features

Reals Life Practical & Case Studies

Assignments

Lifetime Access

Expert Support

Global Certification

Job Portal Access