Software Testing
(47 Blogs)
How Can I Speed Up My Cypress Test?
5 out of 5 based on 1700 votes
Last updated on 14th Feb 2021
3K Views

The Cypress Training in Delhi the online course will help you explore the new techniques, and also you will learn from the corporate professionals having complete, experience over the cypress test.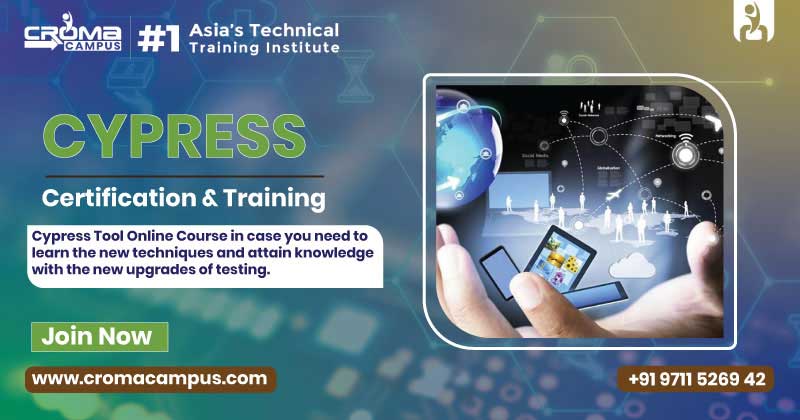 Today testing the application is a need and to perform such a task the software is playing a brilliant role. The testing became important as the customers preferred to choose a commodity or service so to provide the exponential interface and usability the testing is performed. There are many types of testing each according to the particular domain. Here today we will be discussing cypress testing. So, let's explore the perfect ways through which you can perform the cypress test quickly.
Today, the testing becomes a perfect career with an amazing future and if you are looking to learn and grow more skills of your testing you can enroll for the Croma Campus training as this institute also provides Cypress Tool Online Course in case you need to learn the new techniques and attain knowledge with the new upgrades of testing.
How to Speed Up Your Test with Cypress?
Perform the Tests Together
The Cypress software provides complete support or you can say integrated support with the help of the CI tool that helps in executing multiple tests parallelly.
Always Let the Server Completely Start First
Before testing the application from the cypress in order to eliminate the unknown time out and maddening errors it is important to let the application run completely.
Try to Bring a Change in Cypress Default Timeouts
As we are well aware that cypress DOM-based commands have default timeouts and if you need to work over more on some of the components that can be menus and selects you can change the timeout defaults and perform the time-taking work easily.
Avoid the Boilerplate Code with the Cypress Commands
Sometimes the code repeats itself making it difficult to execute the test. So, to re-write the entire code may bring madness and may take a lot of time. So, to eliminate such you can create a cypress command. This will help in creating a simpler integration by adding autocomplete component in your test.
Future Scope of Cypress
In the present scenario, Cypress holds a vital position in the testing field. There are various reasons behind its popularity as well. One of its significant features that makes it comparably unique from other contemporaries is its fast feature. It even assists faster test execution than Selenium. Well, performing exceedingly well amongst its contemporaries, it also works intently with the developer for the test automation purpose in the most effective way.
It genuinely holds a brighter scope in the coming years. Therefore, if your interest lies in this direction, then you should surely opt this course, as it would help you to reach at the top of your testing career. After having a legit certification in hand, you will be able to work as a verified Cypress Automation Test Engineer confidently. In fact, it will help you grab a decent amount of salary structure also. Hence, this certification will be helpful for you in the long run.
How to learn Cypress?
At the moment, getting acquainted with its details, and skills is quite simple. You can simply get associated with Croma Campus to acquire Cypress Training. Here, you will get the opportunity to experience a whole new way of interactive learning from highly qualified experts. In fact, getting in touch with Croma Campus will allow you to get placed in multinational companies. These experts hold more than 10 years of experience in this direction, and they will help you thoroughly to get into every section concerning numerous written materials, and presentations. Well, this institution will also provide you with a free live demo session to get the overall gist of the course.
Conclusion
So, with these you can perform your tests in a better way. in case you need practical knowledge with such techniques you can enroll for the Cypress Training in Delhi the online course will help you explore the new techniques, and also you will learn from the corporate professionals having complete, experience over the cypress test.
In case you have more that you need to know about the software and want to understand the training content you can enroll for the free live demo from the Croma Campus institute before joining the online training.

Free Demo for Corporate & Online Trainings.
LEAVE A REPLY
Your email address will not be published. Required fields are marked *
Course Features

Reals Life Practical & Case Studies

Assignments

Lifetime Access

Expert Support

Global Certification

Job Portal Access