Foreign Languages
(22 Blogs)
Amazing Career Benefits Of Learning French Language
5 out of 5 based on 701 votes
Last updated on 14th Mar 2020
4.7K Views

Croma Campus provides French Language Classes in Delhi with the main aim to make you understand language along with the culture and living style.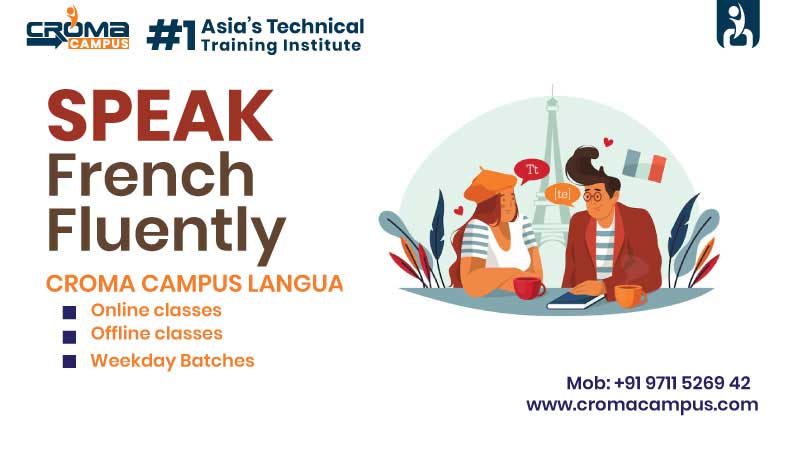 The world is all covered with people today humans are everywhere living, working, studying, but everyone is interconnected and have a bond (Liason in French) between them even after having different languages and cultures that are the words to think about but we made it possible by learning each other's language along with the culture. Today many people of our nation are living around the world by learning the language.
French Language
Among the group of 400 languages, many languages are commonly learned and the maximum amount of the population of the world can speak and understand; one in them is French. French is the official language of 29 countries and the third, in most studied languages around the world. It is also known as romance language originated from Indo- European family speaking the Latin language. It is the second language after English that is always taught in every country around the world.
If you are looking for learning a language, French is the best language you can believe in. Croma Campus provides French Language Certification Training with the main aim to make you understand language along with the culture and living style. We make sure that you learn from the basics to the advance with our highly experienced French teachers. Here is how Croma Campus stands the best out of every French institute.
Why Croma Campus for the French Language?
We provide education through professional teachers who have experience of 8 to 15 years of the language.

We focus on one to one attention, therefore, try to keep a shorter batch for maximum attention to every aspirant

We offer online recorded videos to offer any time access to classes.

We understand how important time could be so flexible timing and any time assistance is one of our greatest merit.

We provide every facility from basic to advance like Wi-Fi and projectors.

You will attain a globally recognized certificate.
The Benefits of Learning the French Language
Opens up career opportunity as it is the main language used in NATO and Olympics and it can also upgrade your profile leading you to a higher post in your company

It's always good to know the country to maximize your adventure during travel.

You will be able to learn and understand the culture and literature to explore a=more art and beauty

It will help you to get more educational opportunities with the top universities of French-speaking countries.

The French language is always known as a gateway to encourage yourself to learn other languages.
Career Opportunities After Learning the French Language
Foreign embassies

MNC, BPO, IT, Call Centers

Translator and interpreter

Travel, tourism hospitality

Teacher or Trainer

Business-related to export Import, Government.
Conclusion
Looking at the benefits of learning French it looks almost impossible to lose the desire of learning this language if you also feel the same and want to know more about the language learning module and other related queries you can contact Croma Campus as they provide free counseling and demo classes for you so that you can understand before taking any steps for your future. Croma Campus is one of the best institutes of French Language Classes in India as it provides 100% placement assistance to all students who complete their course and get certified. So don't keep on thinking about it quickly enroll yourself and look the amazing world waiting for you.
Free Demo for Corporate & Online Trainings.
LEAVE A REPLY
Your email address will not be published. Required fields are marked *
Course Features

Reals Life Practical & Case Studies

Assignments

Lifetime Access

Expert Support

Global Certification

Job Portal Access